From Durau Resort, directly in the front of Ceahlau National Park Administration Office, we cross Nicanului River on a small bridge and climb the leg that guards the left side of the river in less than 10 minutes, until reaching DJ 155F.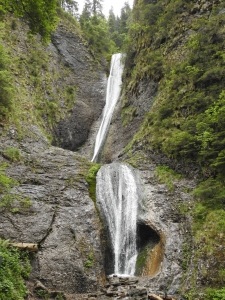 After crossing the road and re-entering the forest, we first climb a gentle path, which becomes more and more accentuated in between the stone blocks fallen from the crag. After nearly an hour's walk we reach Poiana Viezuri, situated at 1189 m in altitude. The track that links Fantanele Cabin and Poiana Viezuri, marked by a yellow triangle, also reaches this point from the left side. The trail to Duruitoarea winds south-westwards, first crossing several clearings. Then it continues through the crisp forest, the path being flanked on the left side by the stone blocks fallen from the crags of Toata and Piatra CIobanului Peaks. It crosses several rivers, the last obstacle being Rapa Paraului (River's Abyss). Afterwards it gently descends towards Rupturi River, whose course is interrupted by one of Ceahlau's crowning jewels – Duruitoarea Waterfall. Situated at 1218 m altitude, it is formed of two steps divided by a crest dug in stone. The waterfall is 25 m tall and its noise can be heard from far away, similar to a deep rumble (duruit), the very reason for its name.
Near the waterfall a rest stop has been set up, with tables and benches. This is necessary for we have reached near the halfway point of the trek, and the climb that follows is not necessarily easy.
Moving forward on my journey, you first set on an abrupt climb, and it eases from some point. However it is only an opinion, for the climb is continuous and arduous, first going farther from the river, on the left side until Poiana Scaius (1400 m), after which it crosses the superior part of Rapa Arinis crag and reaches Poiana Arinis (1651 m). We are near the superior limit of the forest, after which, upon climbing for a while, we reach clusters of juniper and the alpine grassland.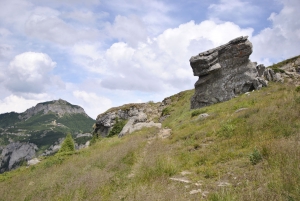 During our climb, the horizon widens. Towards the left we can first see seemingly inaccessible stones of Piatra Ciobanului, and afterwards the pyramid of Toaca Peak (1904 m). Although it is only three metres less tall than Ocolasul Mare, it dominates the entire massif through its grandness and central position. Here we reach the intersection with the blue band marked trail, which comes from Jgheabul lui Voda. From here, walking along Piatra Lacrimata, we are less than half an hour's way from Dochia Cabin.