Set up from as long as 1835, it is one of the first tracks in Ceahlau, starting from Schitul Durau towards the high area of the massif.
From the centre of Durau Resort, climbing towards the Cheahlau National Park Administration office, a beautiful perspective of the massif opens up, towards Piatra Lata, Panaghia and Toaca, Piatra Ciobanului.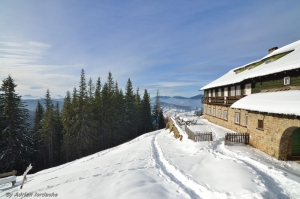 At approximately 100 m from the administration office, the paved road ends, in front of Cascada Hotel, and the path leads to the forest, first following the leg in between Nican River on the right and Fantanii River on the left. After that we climb flanked by the left side of Fantanii River and the forest until we reach DJ 15F Durau – Izvorul Muntelui. Crossing the county road, the trail first climbs in a gentle path through the mixed forest, until we reach a rest stop near a concrete basin design to entrap water for Durau Resort. Next, the path accentuates and after 15 to 20 mins we reach Poiana Fantanele, near Fantanele Cabin.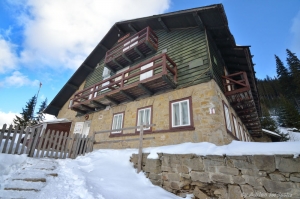 The front of the cabin opens up to a superb panorama towards Durau Resort and Bistritei Mountains, with Magura Grintiesului in the forefront, the massif encompassing Toaca Peak and Stanca Panaghiei on the left, western side. From here, following the track starting from Durau and leading to Duruitoarea Waterfall, marked by a yellow triangle, you can reach Poiana Viezuri.
Walking along our track from Fantanele Cabin, the path gently climbs until it reaches "La Morminte" Saddle, where a rest stop has been set up. Next, the path gradually accentuates until it reaches a clearing from where you can see the Stanisoarei Mountains panorama, flanked by the waters of Izvorul Muntelui Lake. The area is known as Curmatura Piatra Lata and it is marked by the isolated rock of Caciula Dorobantului and the conglomerate formation of Piatra cu Bani Rock, standing approximately 30 m tall.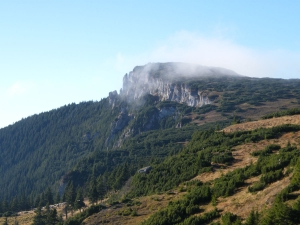 Next the trail moves forward in a gentle climb through the forest and, at the point named Saua Muntelui, it enters the clusters of juniper. The path moves forward under Panaghia, a rock 70 m tall and under Toaca Peak (1904 m), until it reaches the meteorologists' cabin. From here a wide panorama opens up towards Lespezi Peak (1808 m) and its plateau, and towards Ocolasul Mare Peak (1907 m), the tallest peak in Ceahlau Massif. On the right, laterally from Toaca Peak, you can see Scaldatoarea Vulturilor and Piatra Ciobanului Rocks.
From the meteorologist' cabin, following the path on the plateau you reach Dochia Cabin in about 20 minutes, crossing over Lespezi Peak. All throughout the treck, on the left side, you can admire the charming view of Izvorul Muntelui Lake, as well as the necklace of townships peppered on the versant of Stanisoarei Mountain, until they are mirrored in the lake.
The entire track in between Durau and Dochia Cabin was set up as a thematic trail during a programme named Life Natura.